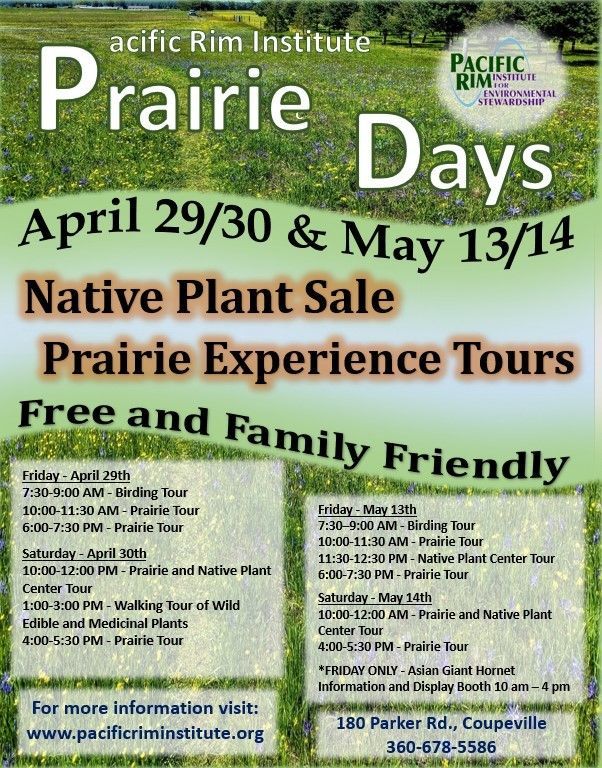 PRI Information and Sale Table:
NATIVE PLANTS – HONEY – T-SHIRTS AND MORE!
We'll have jars of honey, PRI T-shirts and native plants for sale throughout each day – from 9:00 AM until when the final tour of the day returns. The native plants will be in 4" or gallon pots and there will be a unique opportunity to get some rare native plants including lovely shooting stars, lilies, irises and much more. While supplies last!
PRI Herbarium Display:
Saturday, April 30th only. 9:00 AM to 4:00 PM. We have over 1,000 specimens of rare native plants – mostly from our 175-acre prairie, savanna and forest – in our newly created PRI Herbarium Collection. Ask at our PRI booth for directions to the display. You can view the actual specimens of several dozen species and learn why it is important to preserve these plants for scientific study and research. PRI's collection will soon be part of a national database!
Saturday Morning Birding Tours:
Bring your binoculars and good walking shoes for the prairie, savanna and forest. These tours will be led by Whidbey Audubon experts. You may cover about 1.5 miles on mild terrain. Who will spot a Mountain Bluebird?
Prairie Tours:
Bring your binoculars (optional) and camera/phone, plus good walking shoes for a 1.5 mile walk over mild terrain! We'll visit our rare prairie remnant, savanna and forest sites that are being restored. Learn what we are doing and what you can do in your own backyard!
Prairie and Native Plant Center Tours:
These tours are 2 hours and will cover 1.5 miles over mild terrain. Bring good walking shoes, binoculars for a possible Mountain Bluebird sighting, and your camera/phone. In addition to the prairie, savanna and forest, the tour will visit our Native Plant Center nursery, shade area and greenhouse – where PRI grows 50 species of rare native grasses and flowers. Even Whidbey's native cactus!
Native Plant Center Tour:
Friday, May 13th only – from 11:30 AM to 12:30 PM. Minimal walking involved. Visit our production greenhouse, shade area and nursery beds where PRI grows ~50 species of rare native plants. We use these plants to restore habitat throughout the Puget Sound region, including here on our 175-acre jewel of Central Whidbey Island.
Walking Tour of Edible and Medicinal Plants:
Led by Dr. Ioana Popescu – botanist, herbalist and PRI Trustee. One tour only – Saturday, April 30th from 1:00 to 2:30 PM. Tour will cover 1.5 miles of mild terrain. The tour will cover edible and medicinal native and invasive plants. No plants will be harvested on this tour.
Asian Giant Hornets – Oh My!
Join us between 10:00 AM and 4:00 PM on Friday May 13th to learn from an expert from the Washington State Department of Agriculture (WSDA). We'll have a booth with displays and up-to-date information on the status of the hornets in our state! Since the hornets were first spotted in Washington, PRI has organized dozens of trappers each year, who help WSDA keep this insect from establishing itself here. If you are interested in trapping – very simple and not time consuming – you'll be able to pick up a complete kit and take it home, armed with all the information you need to help in this effort.